[CLOSE]
Sign up and get started today.
Use of the GAP Pro database system is based on a yearly subscription. A one year subscription to the notebook for crop records costs just $79.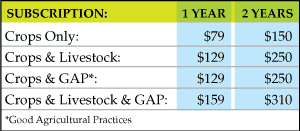 Adding access to the GAP section is an additional $50 per year. That's just over $10 per month total for keeping a complete set of GAP records. You can save a little money and time with a two-year subscription. It's a small price to pay for safe record-keeping and convenient reporting, available from any location at any time via the web.
At no additional cost, you will also have access to GAP Pro Mobile (when it becomes available), a version of the notebook optimized for entering data on your smart phone. This allows you to keep up with your record keeping as activities happen in the field or barn.
Plus, your data will be backed up daily on our secure servers, so you will never have to worry about losing your critical records due to failure of your home computer.
Rest assured we keep all your data private and secure. The GAP Pro notebook is your private space on the web, free of advertising. We will never sell your information in any form and will never sell or share our mailing list.

Begin the subscription process by reading the Terms of Agreement and clicking "ACCEPT." Next you will be prompted to enter some basic information about your account, and choose a user name and password. There you will also be able to select the type and length of your subscription. Then you will complete the payment process by reviewing your selections in our shopping cart and paying with a credit card via PayPal. Once you have completed payment you can access the system immediately with the user name and password you created.
Certifiers wanting to license access to user accounts or to join
our participating certifier program should contact us.